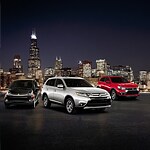 Think SUVs are for families, alone? Think again. At HERITAGE MITSUBISHI-MORROW, we want to provide you with every opportunity to take advantage of the vehicular choices given you. As such, we think its important to highlight the benefits of driving an SUV so that you you can make the most informed decision possible when choosing your next ride.
If you are a single person who loves outdoor adventure, or a couple wanting to take on rugged long distance journeys, an SUV could be the perfect pick for you. Often equipped with four wheel drive options, off-roading capabilities and all-speed traction control, an SUV is the perfect companion to take with you on weekend excursions. Looking for a daily driver? An SUV is ideal for that, too. With multiple safety features like command seating, rear view mirror cameras, anti-lock brakes and more, an SUV makes the perfect vehicle to get you to work or school, safely.
To conclude, driving an SUV has some major benefits, many of which are supreme for outdoor activities and daily driving. If you are interested in learning more about what our SUVs can offer, stop in to HERITAGE MITSUBISHI-MORROW to take one out for a test drive, today!