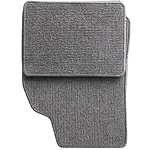 Tracking dirt into your car isn't always avoidable. Hopefully, you have the right floor mat to protect against the debris brought inside. Choose wisely between carpeting and rubber. Match the right match to your concerns and needs.
In places where the weather provides an unwanted degree of snow and rain, rubber mats are a better choice. The same would be right for someone who works in environments where boots come in contact with dirt and mud. Rubber can deal with that kind of dirt, and it cleans easily.
In less demanding environments, carpet floor mats might be better. Carpet mats have an aesthetic quality, and many are customized. They also come in a wide variety of different looks. Cleaning may require a bit more effort, though. The effort could be worthwhile considering the looks they deliver.
Purchase either rubber or carpet floor mats at Heritage Mitsubishi Morrow. We have a fantastic selection at our Morrow, GA location.