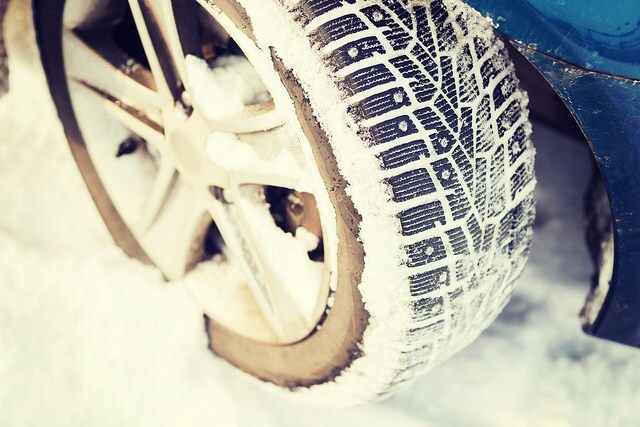 The winter is by far the harshest season for your car. From wildly fluctuating temperatures to heavy snow and ice, there are thousands of ways for the weather to negatively affect your vehicle. Luckily, there are some simple service steps you can take to prevent the worst of winter damage and keep your car healthier for longer.
We've already mentioned the crazy temperature fluctuations, and this trend can wreak havoc on multiple components of your vehicle. Firstly, you'll need to gauge your tire pressure. Pick up an air pressure gauge from most gas stations or any auto parts store. Make sure you're always at the proper PSI after weird weather patterns. Proper tire pressure will increase your car's traction, which is especially important when road conditions get icy. While we're on the subject of wheels, it's always worth considering getting new snow tires. Snow tires can be a life saver, but if you opt out, at the very least be sure to check your tire's tread and make sure they're roadworthy all season long (you can do this by inserting a penny headfirst into your tread; if any part of Abe's head is covered, your tread is legal; if not, you'll need to replace your tires).
The temperature can also affect your battery life. The cold can drain your battery's juice, so it's a good idea to get your charging system and battery checked before the deepest cold sets in.
Always be sure that your engine coolant is properly filled with clean antifreeze. You don't need to do this as often as you might think. The general rule of thumb is to refill your coolant every 5 years or 150,000 miles for newer vehicles, but to be sure, check your owner's manual. As long as you've been keeping up with your scheduled maintenance, you don't have much to worry about.
And finally, get new wiper blades and fill your fluid chamber with deicing fluid. In the middle of a blizzard or cold snap is not the time to realize your wipers aren't working.
If you're unsure of what all needs done, make an appointment with us! We'll gladly check over your vehicle & get it ready for winter.